Reverend Christina Leone-Tracy, Senior Minister, has served the Fellowship since August 2017. She grew up in Texas and discovered Unitarian Universalism while a college student at Southern Methodist University. She has her Masters degree in Psychology from the University of Memphis, TN, and her Master of Divinity degree from Meadville Lombard Theological School in Chicago, IL. Prior to joining us here in the Fox Valley, Rev. Christina served as the Faith Development Minister for six years at the UU Church of Annapolis, MD, where she enjoyed a wide range of ministry activities, but focused her energy on religious exploration for children, youth, and adults. She is honored to serve the Fellowship as its second settled senior minister, and sees her role as helping us live fully into the mission we have for ourselves: Welcoming, Growing, and Leading. Christina and her husband Brian have one young son, Nevan, and hope to expand their family further in coming years. christina@fvuuf.org
---
Reverend Leah Hart-Landsberg, Associate Minister, has served the Fellowship since August 2012. Originally from Portland, Oregon, she grew up in a Jewish and Unitarian Universalist family. She has been a child, member, lay leader, staff member and minister at UU congregations in Oregon, Washington, California, New Jersey and Florida. She received her Master of Divinity (M.Div.) degree from Starr King School for the Ministry, a UU graduate theological school in Berkeley, California. She co-edited the Skinner House book Jewish Voices in Unitarian Universalism and is a past president of UUs for Jewish Awareness. Leah and her spouse Amy have four children and various pets. She is honored to work with this wonderful congregation and enjoys connecting with its friends and members, especially when they are in need of a listening ear. Rev. Leah is on sabbatical until December 24, 2018. 
---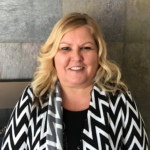 Phyllis Schmitt serves the Fellowship as Business Administrator.  She has an Associate Degree in Accounting from Lakeshore Technical College and brings many years of finance, accounting and business administration experience. Prior to joining the Fellowship, she held positions in the manufacturing and restaurant industries, and also served as a member of the senior management team of a Green Bay not-for-profit. She has a proven record of being very dedicated and professional, and enjoys being a "Jack of All Trades" when it comes to handling the needs of the organizations she serves. phyllis@fvuuf.org
---
Marie Luna serves as the full time Director of Congregational Life and has been in this position since 2005. She comes from a background working with many nonprofit organizations, predominately Big Brothers Big Sisters. She has also started up and leads the Unitarian Universalist Association of Membership Professionals group. She loves being part of this Fellowship and feels fortunate that she is able to help others become more deeply involved with this community. She is available to meet with anyone who has questions regarding the Fellowship or Unitarian Universalism or who would like to connect to the programs or people of the Fellowship.  marie@fvuuf.org
---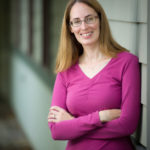 Cyndi Polakowski is the secretary of the Fellowship. She enjoys having the opportunity to help members and friends of the Fellowship in her work.  cyndi@fvuuf.org
---
Steve Sieck has served as the Music Director of the Fellowship since June 2018 and joined as a member in 2010.   Steve received his Bachelor of Arts in music from the University of Chicago and his Master and Doctorate degrees in choral conducting from the University of Illinois. Steve also serves as Co-Director of Choirs and Associate Professor of Music at Lawrence University, where he teaches conducting, choral pedagogy, chairs the voice department, and directs two choirs.  Steve's academic research focuses on marginalization of oppressed identities in choral settings and how to create a more inclusive choral space.  His performance background includes professional work as a choral and opera singer and accompanist.  Steve has worked in music and worship for over twenty years and enjoys helping people find connection as a spiritual community through music.  There is a place for everyone to make music at the Fellowship! steve@fvuuf.org

---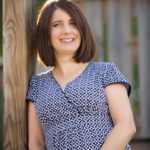 Kim Hartman serves as our Director of Religious Education. She has a Bachelor of Science in Religious Studies, a Bachelor of Fine Arts, and a Master of Science in Educational Leadership from the University of Wisconsin-Oshkosh. For the past dozen years she has worked as an art education teacher at South Park Middle School in Oshkosh. Prior to that, she worked for five years as a direct support provider, manager, and assistant program manager in group homes for the developmentally disabled.  kim@fvuuf.org
---

Affiliated Community Ministers
We have two community ministers who are affiliated with the Fellowship. These are Unitarian Universalist ministers serving in other ministries in our community but are in covenant with the Fellowship and occasionally offer services here. They are not members of our regular ministry team, but are in relationship with our Fellowship ministers.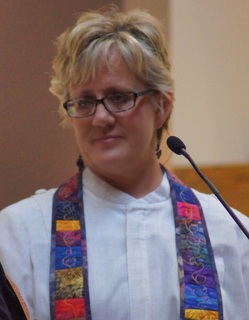 The Rev. Karon Sandberg is a graduate of United Theological Seminary where she received her Masters of Divinity with an emphasis in Pastoral Care and Counseling. She served both First Congregational United Church of Christ and Fox Valley Unitarian Universalist Fellowship as an intern.  She was ordained by our congregation in the fall of 2012. She currently serves as a full time Hospice Chaplain for Heartland Hospice and as a Community Minister for our congregation providing additional pastoral care and preaching support. She enjoys preaching at least once a month for many of the nearby lay lead UU congregations in NE Wisconsin. She has been married to her partner Joel for over 27 years and they have two children, Derek and Claire.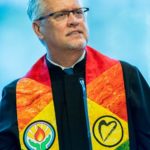 The Rev. Jim Coakley is assisting with pastoral care and other duties while Rev. Leah is on sabbatical. Rev. Jim also serves as an affiliated community minister focused on regional ministry to three lay led UU fellowships in Fond du Lac, Green Bay, and Stevens Point. He is a graduate of Meadville Lombard Theological School with a Masters of Divinity and was ordained by the Fellowship in 2016.  He and his spouse, Margit, have been members for over 20 years and their two children, Christiana and Alex grew up in the Religious Education program here.  Jim supports the staff though occasional preaching, pastoral care, and adult programs.