Reverend Kathleen Rolenz, Interim Senior Minister, discovered Unitarian Universalism while in college, and was ordained to the ministry in 1983.  She has served congregations, in Knoxville, TN and at West Shore in Cleveland; and has also served in two interim ministries in Glen Allen, VA and at the Cleveland UU Society, in Cleveland Heights, OH.  She is an accredited Spiritual Director and former President of the Unitarian Universalist Christian Fellowship.  She recently served as co-Dean of the Unitarian Universalist Minister's Association's Beyond the Call Program in Worship and Liturgical Arts.  She is the editor or co-editor of three books by the UUA's Skinner House Press; Christian Voices in Unitarian Universalism; Sources of Our Faith, and Restored to Sanity. With Rev. Arnason she is the co-author of Worship That Works, the most widely used reflective manual about the theory and practice of UU worship.  She is currently working on a book with the working title "The Free Thinker's Bible: Reflections for the Curious, the Contemptuous and the Convicted…" She is the recipient of numerous preaching prizes, including the Richard C. Borden preaching award and the Beacon House Press Sermon Award. Contact Kathleen at kathleen@fvuuf.org.
---
Reverend Leah Hart-Landsberg, Associate Minister, has served the Fellowship since August 2012. Originally from Portland, Oregon, she grew up in a Jewish and Unitarian Universalist family. She has been a child, member, lay leader, staff member and minister at UU congregations in Oregon, Washington, California, New Jersey and Florida. She received her Master of Divinity (M.Div.) degree from Starr King School for the Ministry, a UU graduate theological school in Berkeley, California. She co-edited the Skinner House book Jewish Voices in Unitarian Universalism and is a past president of UUs for Jewish Awareness. Leah and her spouse Amy have four children and various pets. She is honored to work with this wonderful congregation and enjoys connecting with its friends and members, especially when they are in need of a listening ear. Leah can be reached at leah@fvuuf.org.
---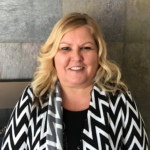 Phyllis Schmitt serves the Fellowship as temporary Business Administrator.  She has an Associate Degree in Accounting from Lakeshore Technical College and brings many years of finance, accounting and business administration experience. Prior to joining the Fellowship, she held positions in the manufacturing and restaurant industries, and also served as a member of the senior management team of a Green Bay not-for-profit. She has a proven record of being very dedicated and professional, and enjoys being a "Jack of All Trades" when it comes to handling the needs of the organizations she serves. Please email Phyllis with any communication at phyllis@fvuuf.org.
---
Marie Luna serves as the full time Congregational Life Coordinator and has been in this position since 2005. She comes from a background working with many nonprofit organizations, predominately Big Brothers Big Sisters. She has also started up and leads the Unitarian Universalist Association of Membership Professional. She loves being part of this Fellowship and feels fortunate that she is able to help others become more deeply involved with this community. She is available to meet with anyone who has questions regarding the Fellowship or Unitarian Universalism or who would like to connect to the programs or people of the Fellowship. Contact her at marie@fvuuf.org.
---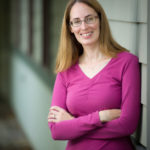 Cyndi Polakowski is the secretary of the Fellowship. She enjoys having the opportunity to help members and friends of the Fellowship in her work. Contact Cyndi at cyndi@fvuuf.org.
---
Jay Thomas serves as our Music Director.  He earned a Bachelor of Music degree and a Masters in Curriculum and Instruction at UW-Oshkosh. In addition to his teaching work, Jay has sung for many years in the Oshkosh Chamber Singers, run the Thomas Piano Studio since 1987, and led a African/Cuban drumming group in Fond du Lac. He also composes choral, piano and musical theatre pieces, and has a lot of experience as a musical director in theatre, including with Attic Theater. Jay is a life-long Unitarian Universalist and has been a member of the Fellowship since 2006. For several years, he had been one of our volunteer pianists. Contact Jay at jay@fvuuf.org.
---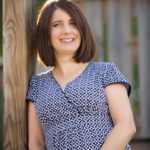 Kim Hartman serves as our Director of Religious Education. She has a Bachelor of Science in Religious Studies, a Bachelor of Fine Arts, and a Master of Science in Educational Leadership from the University of Wisconsin-Oshkosh. For the past dozen years she has worked as an art education teacher at South Park Middle School in Oshkosh. Prior to that, she worked for five years as a direct support provider, manager, and assistant program manager in group homes for the developmentally disabled. Contact Kim at kim@fvuuf.org.
---
Fox Valley Unitarian Universalist Community Minister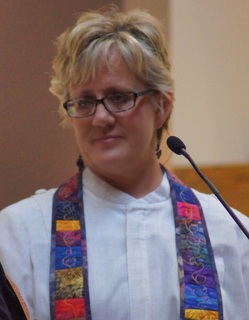 The Rev. Karon Sandberg is a graduate of United Theological Seminary where she received her Masters of Divinity with an emphasis in Pastoral Care and Counseling. She served both First Congregational United Church of Christ and Fox Valley Unitarian Universalist Fellowship as an intern.  She was ordained by our congregation in the fall of 2012. She currently serves as a full time Hospice Chaplain for Heartland Hospice and as a Community Minister for our congregation providing additional pastoral care and preaching support. She enjoys preaching at least once a month for many of the nearby lay lead UU congregations in NE Wisconsin. She has been married to her partner Joel for over 27 years and they have two children, Derek and Claire.