For details on our current JAMs and Justice Programs click HERE.
If you're interested in starting a new JAM, contact our "New JAM Facilitator" by e-mailing newjam@fvuuf.org.
News
&

Opportunities from Our Fellowship JAMs
UU THE VOTE 2022 HAS LAUNCHED!
Faith, Love, Action, Together
Climate justice, reproductive rights, honoring treaties, resisting racism and other oppressions, all involve public policy, which requires voter engagement. Early voting by mail begins this week. WUUSAN invites every UU to help reach Wisconsin voters, in collaboration with key community partners. You are valuable and needed regardless of your mobility, time constraints, or tech skills. Save the date for the #UUtheVote Wisconsin weekend of action October 14-16. Get updates at https://wuusan.salsalabs.org/uuthevote20220918 Contact Karen Wills at 612-270-6559 with questions or to schedule an online meeting for GOTV with climate justice and social action teams.
Want to Submit to Justice Hub?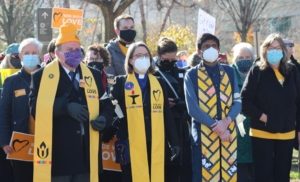 If you've got an event that your JAM is supporting, or another event in the wider community you think The Fellowship should know about, let us know! Email justicehub@fvuuf.org by 9 am on Tuesday for inclusion by Thursday's publication of The Scroll (our newsletter).
ESTHER
Interfaith Community Organizing
Consider attending one of the ESTHER regular meetings:
Get Zoom link by clicking on the specific task force meeting on the listing of upcoming events at this link: https://esther-foxvalley.org
Updates from ESTHER:
Help Get out the Vote through ESTHER's postcard writing events.
Postcards to Get out the Vote:  Postcards (especially with a brief handwritten note) are effective in increasing voter turnout.  Stop in at one of the events to help complete some postcards and socialize.
Details of food that is provided at each event is on the registration link.  Free and open to the public.
Tuesday, October 4, 5-6:15, Trinity Episcopal Church, 203 Algoma Blvd., Oshkosh. RSVP at esther-foxvalley.org/postcardsoct4
Tuesday, Oct. 11th:  Appleton North High School, 5000 N. Ballard, Appleton:  6-7:30, RSVP at esther-foxvalley.org/postcardsoct11
Thursday, Oct. 13th:  First Congregational UCC, Appleton, 724 E. South River Street, RSVP at esther-foxvalley.org/postcardsoct13
A collaboration with the League of Women Voters of Appleton-Fox Cities and League of Women Voters of Wisconsin.
What is Love Calling You to Do?
UUA Side With Love Action Center
Side with Love is a public advocacy campaign that seeks to harness love's power to stop oppression. It is sponsored by the Unitarian Universalist Association and all are welcome to join.
Explore this website:  Action Center — Side With Love
Action Center is a place where we unite in work towards a world where we all thrive. Together we take action, Side With Love, and make deep impacts in this critical moment.
Will you join us?
Subscribe to our newsletters
Join one of our volunteer Squads, the backbone of the Action Center
Host or join an upcoming event
Opportunities in the Wider Community
INDIGENOUS PEOPLE'S DAY CELEBRATION

October 10, 2022,5:00 – 7:00 pm, 7th Annual Indigenous People's Day Celebration at Lawrence University, Main Hall Green (outside), 501 E College Avenue Appleton, WI. Rain Site: Somerset (Warch Campus Center), all ages welcome, free and open to the public.
Many cities and states across the United States have replaced the Columbus Day holiday with the official recognition of Indigenous People's Day. Lawrence University welcomes the entire Fox Cities community to join us in celebrating and learning about the many contributions of Indigenous people globally through song, dance, food, and local Native American guest speakers and leaders.
ELECTION DAY IS TUESDAY, NOVEMBER 8TH

Use this link to check registration status, register to vote, change address, request an absentee ballot, see what's on your ballot, find your polling location.  You can register online through October 19,  mail in registration to your municipal clerk must be postmarked also Oct. 19.  You can register at the polls on election day.
www.vote411.org to find unbiased candidate information collected by the League of Women Voters.
STAY CONNECTED WITH FAIR MAPS WISCONSIN
Monthly Zoom Meetings and Voter Pledge
View the Fair maps website https://www.fairmapswi.com  to find links for latest updates, to register or review the recording for any of the monthly zoom meetings held from 7-8 pm on first Wednesday of each month, find out about events, and to see your voting map.
"I believe that Wisconsin should have a level playing field and fair elections. That's why, in 2022, I pledge to vote only for candidates who promise to support legislation to ban partisan and prison gerrymandering."
Edited on September 28, 2022