The Partner Church Committee was born in 1999 when the Fox Valley Unitarian Universalist Fellowship established a partnership with the Unitarian Church of Deva, Transylvania. In 2011, as this partnership became strong and healthy due to the efforts of many people both in Appleton and Transylvania, we decided to add another partner church in Banaybanay, Philippines. The focus of our committee is to help sustain these partnerships through our commitment for deeper understanding across cultures, for meaningful communication, to broaden the scope of Unitarian and Unitarian Universalist beliefs, and to assist our partners with 
projects that are worthwhile for them.
We have established strong relationships with our partners through work projects, cultural exchange, and travel to visit our beloved partners. Visitors from both Deva and Banaybanay have come to Appleton to celebrate our partnerships. We have raised money for our partners so their faith communities can thrive. In Deva, this has meant helping the congregation buy and refurbish a building for worship.
In Banaybanay, we established an education program called Mango PIE (Partners In Education) where families from the Fox Valley Unitarian Universalist Fellowship help children in Banaybanay with the costs of attending school. Education is an invaluable tool.
The return on these investments is immeasurable. Our relationships with both these congregations have built deeper understanding and long-lasting friendships. We invite you to learn more about the wonderful world of partnership with Deva, Transylvania and Banaybanay, Philippines through our Anniversary Celebration.
Anniversary Celebration!
The year 2021 marks the 22nd Anniversary of partnership with the Unitarian Church of Deva, Transylvania, and the 10th anniversary of Partnership with the Unitarian Universalist Church of Banaybanay, Philippines. To celebrate this occasion, each month we will give you a fun fact about partnership, an important word to consider that encompasses the heart and soul of partnership, and an introduction to some of our partner church members, Mango PIE students and sponsors. We hope to have an in-person celebration to mark this wonderful event in November or December of 2021. Watch for more information!
Introducing Partner Church Members, Mango PIE Students and Sponsors:
Tina Main, Chairperson of the Partner Church Committee
Hello and Welcome to our partner church anniversary celebration! My name is Tina Main and I am the chairperson of this wonderful committee.
When I joined the Fellowship in 2010, my life was on a much different path. At that time, my financial future was very uncertain. This was a truly difficult time in my life. The Fellowship offered me a place of warmth and welcome. And when I discovered that the Fellowship also had deep friendships with people around the world, I wanted to be a part of this beautiful community. This is where my incredible journey with the partner church movement began. I would like to invite you to join this journey!
---
Partner Church presents the Mango PIE (Partners in Education) program: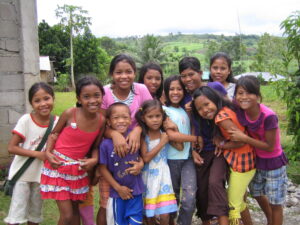 The Fellowship began the Mango PIE program 10 years ago to serve the education needs of the children of our partner church in Banaybanay, Philippines. We have helped over 50 students and families achieve their education goals through our sponsorship. The children and families of Banaybanay are filled with gratitude for the generosity of our Fellowship. Thank you to all who have participated in this wonderful program. Please contact Vickie Milde: vicmilde@hotmail.com if you would like more information or would like to become part of this valuable program.
---
Sponsoring a Mango PIE Student by Rev. Karon Sandberg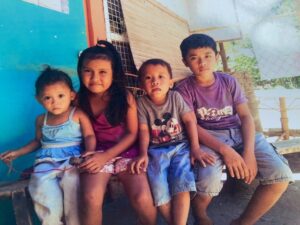 If you can, do it. Become a sponsor in the Mango PIE program. We have been sponsoring Churls since he started in a preschool program. This year he begins high school. I feel some of the same pride that I had for my own children as Churls takes this step. It's not just about him but also the support and relief we bring to his parents, Jonalyn and Elde. Both parents work hard and do their very best but jobs are difficult to find and some evaporate due to economics and weather. Health issues that would probably not stop us in our tracks, due to our ability to access health care, can become a more difficult hurdle for them.
Churls tells me he looks to my son, Derek as a role model. He wants to continue in school and be able to get a good job in the city. I hope that he does. I think our involvement opens up ideas and options to him that he may not even know exist. You can do the same. The program is not just about giving money for tuition, it is about sharing life lessons, it is about learning and caring for one another. If you can, do it, sponsor a student. You won't regret it.
Contact Vickie Milde: vicmilde@hotmail.com to become part of this valuable program.
---
Fun Facts
Deva:
Sprinkling: This is an old Saxon tradition that occurs on the 2nd day of Easter ( Easter Monday) in Transylvania where men and boys sprinkle water or perfume on girls and women. It is believed that because they are perfumed, the girls and women will stay beautiful all year.
Banaybanay:
Languages: Depending on the classification method, there are 125 to 170 languages in use in the Philippines, such as Tagalog, Cebuano, Ilocano, Hilagaynon, etc. Our partners in Banaybanay speak Cebuano.
Partnership Word:
Followership: 1 : following. 2 : the capacity or willingness to follow a leader. Merriam-Webster.
Followership is an important quality to remember for all who work within cross-cultural relationships because the leadership/followership dynamic is key to establishing, protecting, and extending healthy working relationships. It means listening and believing in those who are leading whether they are from your own community or from a different culture.