Our services are held on Sundays at 9:00 and 10:45 am during the program year and at 10:00 am during the summer. See the Children and Youth tab for our religious education offerings.
Services typically include:
All Ages Focus: Children participate in the first part of services, including the Wonder Box story from the Minister, Director of Religious Education or from a member of the congregation. The children then go to their classes.
Joys and Concerns: Community connections are strengthened through this weekly sharing of personal joys and concerns.
Music: The congregation often sings hymns, chants and songs together during the service.  Many services feature special musical performances by members or other musicians, including a regular performance by the choir.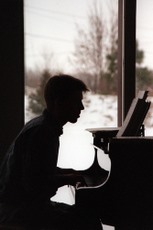 Meditation and Prayer: This is a time when people may choose to pray, meditate, or simply enjoy a moment of reflection.
Sermon: Our Senior Minister, Rev. Christina Leone-Tracy, and our Associate Minister, Rev. Leah Hart-Landsberg routinely speak at services. We also have some of our members or outside speakers give the message when our Ministers are not available. Past sermons can be found here.
Congregational Response: In this portion of the service, all present are given the opportunity to respond to the main message with questions and comments. People often cite this as their favorite aspect of the services.
We have a  t-loop system in our sanctuary for those with hearing aids. Simply turn your hearing aid to "t". We also have assistive listening devices for those who do not have hearing aids, but who could use additional support. Large print hymnals are also available.