The Partner Church Committee was born in 1999 when the Fox Valley Unitarian Universalist Fellowship established a partnership with the Unitarian Church of Deva, Transylvania. In 2011, as this partnership became strong and healthy due to the efforts of many people both in Appleton and Transylvania, we decided to add another partner church in Banaybanay, Philippines. The focus of our committee is to help sustain these partnerships through our commitment for deeper understanding across cultures, for meaningful communication, to broaden the scope of Unitarian and Unitarian Universalist beliefs, and to assist our partners with projects that are worthwhile for them.
We have established strong relationships with our partners through work projects, cultural exchange, and travel to visit our beloved partners. Visitors from both Deva and Banaybanay have come to Appleton to celebrate our partnerships. We have raised money for our partners so their faith communities can thrive. In Deva, this has meant helping the congregation buy and refurbish a building for worship.
In Banaybanay, we established an education program called Mango PIE (Partners In Education) where families from the Fox Valley Unitarian Universalist Fellowship help children in Banaybanay with the costs of attending school. Education is an invaluable tool.
The return on these investments is immeasurable. Our relationships with both these congregations have built deeper understanding and long-lasting friendships.
Mango PIE (Partners in Education)

Partner Church presents the Mango PIE (Partners in Education) program: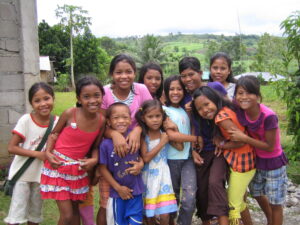 The Fellowship began the Mango PIE program 10 years ago to serve the education needs of the children of our partner church in Banaybanay, Philippines. We have helped over 50 students and families achieve their education goals through our sponsorship. The children and families of Banaybanay are filled with gratitude for the generosity of our Fellowship. Thank you to all who have participated in this wonderful program. Please contact Vickie Milde: [email protected] if you would like more information or would like to become part of this valuable program.
---
Sponsoring a Mango PIE Student by Rev. Karon Sandberg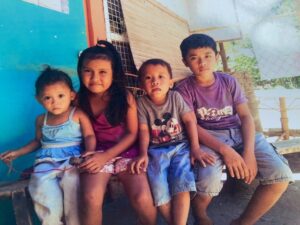 If you can, do it. Become a sponsor in the Mango PIE program. We have been sponsoring Churls since he started in a preschool program. This year he begins high school. I feel some of the same pride that I had for my own children as Churls takes this step. It's not just about him but also the support and relief we bring to his parents, Jonalyn and Elde. Both parents work hard and do their very best but jobs are difficult to find and some evaporate due to economics and weather. Health issues that would probably not stop us in our tracks, due to our ability to access health care, can become a more difficult hurdle for them.
Churls tells me he looks to my son, Derek as a role model. He wants to continue in school and be able to get a good job in the city. I hope that he does. I think our involvement opens up ideas and options to him that he may not even know exist. You can do the same. The program is not just about giving money for tuition, it is about sharing life lessons, it is about learning and caring for one another. If you can, do it, sponsor a student. You won't regret it.
Contact Vickie Milde: [email protected] to become part of this valuable program.
---
Check out a congratulatory video we sent to our Partner Church in BanayBanay HERE!