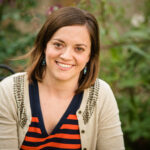 Reverend Christina Leone-Tracy, Senior Minister, has served the Fellowship since August 2017. She grew up in Texas and discovered Unitarian Universalism while a college student at Southern Methodist University. She has her master's degree in clinical psychology and her master of divinity (M.Div.) degree.
"The best part about being a minister," says Rev. Christina, "is the privilege to be a part of the mundane and the important moments in people's lives. I feel honored to be there when people are struggling or celebrating in everyday life. Is also incredible to be able to witness the joy in people's eyes as they are being married, hold the new baby at the hospital or during their dedication ceremony, sit by the bedside of the dying and officiate at their memorial services." One of Rev. Christina's hopes for her ministry is to impart a deep love and commitment to Unitarian Universalism!
She and her husband Brian live in Appleton with their two young sons, Nevan and Ellis, and their sweet big dogs, Asher and Ronan. Christina loves to dance, read fiction, and try new foods.    [email protected]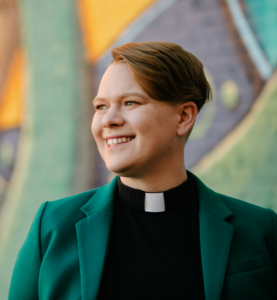 The Reverend Hannah Roberts Villnave's ministry reflects the places she lives and works, and she is passionate about building religious communities that are grounded in local context while holding a radical vision for a more just and compassionate world.
Born and raised as a UU in Racine, WI, Hannah's first taste of religious community was at Olympia Brown UU Church where she taught Sunday school, sang in the choir, and was an all-around Church Nerd. Between her growing up years in Racine and today, Rev. Hannah has done everything from teaching middle school to packing boxes in a warehouse to working as a restaurant host. She eventually earned her Master of Divinity at Wesley Theological Seminary in Washington, DC and served from 2017-2022 as the settled minister at the UU Church of Cheyenne, WY.
Rev. Hannah lives in Appleton with her wife, Catherine, and their two kiddos, Adah and Benjamin. With the two minutes each day they aren't working or parenting, they enjoy doing crosswords, sampling local food and beer, and cheering on the Baltimore Orioles. [email protected]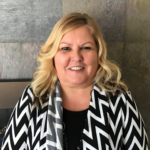 Phyllis Schmitt serves the Fellowship as the Director of Finance and Operations.  She has an Associate Degree in Accounting from Lakeshore Technical College and brings many years of finance, accounting and business administration experience. Prior to joining the Fellowship, she held positions in the manufacturing and restaurant industries, and also served as a member of the senior management team of a Green Bay not-for-profit. She has a proven record of being very dedicated and professional, and enjoys being a "jack of all trades" when it comes to handling the needs of the organizations she serves. [email protected]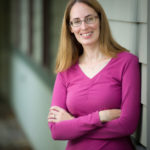 Cyndi Polakowski is the secretary of the Fellowship. She enjoys having the opportunity to help members and friends of the Fellowship in her work.  [email protected]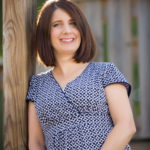 Kim Hartman has served as our Director of Religious Education since 2012. She attained a Bachelor of Science in Religious Studies, a Bachelor of Fine Arts and a Master of Science in Educational Leadership from the University of Wisconsin-Oshkosh.
Kim is thrilled to be able to combine her passions for young people, education, and spiritual literacy to help assist children and youth along their path of deep self discovery.  She and her wonderful team of volunteer teachers make it their goal to assist our students in forming a personal spiritual platform from which to continually grow as well as to help them embrace social justice work as a vital spiritual practice throughout their lives.
Before serving at the Fellowship, Kim worked for a dozen years as an art education teacher at South Park Middle School in Oshkosh, a job that taught her how much she loves working with children. She knew she was "home" when she visited the Fellowship for the first time and she realizes how extremely lucky she is to be able to work in an environment where she can directly and openly teach values that she wholeheartedly embraces herself. [email protected]
Adam Robinson has been the AV Technician since September of 2017. Growing up right here in the Fox Valley, Adam first discovered his love for audio and video editing at a young age. He spent his middle and high school days making movies with his friends. Adam attended the University of Wisconsin-Oshkosh and after a few years, he chose to pursue his passion, and transferred to the music program to study audio recording. He graduated with a Bachelor's in Music with an Emphasis in Recording Technology in the spring of 2017.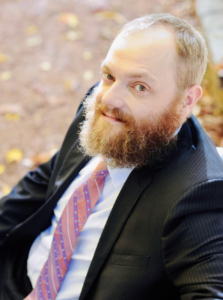 Jonathan D. Steffen, Audio/Video Technician- Jonathan was brought to the Fellowship in September of 2021 to support the existing AV team. He was born and raised in Neenah, WI and has degrees from Madison Media Institute in Audio Engineering, an Associate's Degree from UW Fox Valley, and a Bachelor of Arts from Lawrence University.  Prior to joining the team here, Jonathan served on other faith-based audio/visual teams and recently started a business dedicated to supporting the audio/visual and livestreaming goals of small businesses. Jonathan has always enjoyed using his gifts to amplify the voices of others, and looks forward to continuing to do so at the Fellowship. He currently lives in Neenah with his spouse, child, 2 dogs, 5 birds, several dozen fish, and a snapping turtle.
Affiliated Community Minister
We have one community minister who is affiliated with the Fellowship. Community ministers are Unitarian Universalist ministers serving in other ministries in our community but are in covenant with the Fellowship and occasionally offer services here. They are not members of our regular ministry team, but are in relationship with our Fellowship ministers.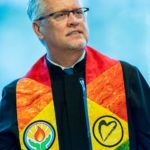 Reverend Jim Coakley serves as an affiliated community minister focused on regional ministry to three lay led UU fellowships in Fond du Lac, Green Bay, and Stevens Point. He is a graduate of Meadville Lombard Theological School with a Masters of Divinity and was ordained by the Fellowship in 2016. He has been a very active member for over 20 years. Jim currently supports the staff though occasional preaching, pastoral care, and adult programs.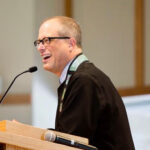 Reverend Roger Bertschausen was the senior minister of the Fellowship from 1990 until 2015. He guided the Fellowship through years of transitions in staff growth, service schedules and practices, building construction, relocation and expansion. Roger oversaw a period of almost constant growth in membership. This title is honorary and given for his dedication and care of this Fellowship. This title does not include any decision-making, pastoral care, or ministerial leadership functions.
Our staff is available to answer your questions and help you connect to the Fellowship. Feel free to contact any of us!