If you, like many others who come to the Fellowship, are new to Unitarian Universalism, there are many opportunities for becoming better acquainted with the community and its guiding principles. The first step is to come to Sunday services. Attending groups or programs also helps people understand what we're all about.
The ministers will offer "Tell Me More!" classes throughout the year. Watch the weekly newsletter to find out when those will happen.
Becoming a Member
If you find you agree with our principles, namely the freedom of religious belief and a generous acceptance of the diversity of beliefs among us, you may wish to join our Fellowship as a member.
Joining the Fellowship includes the following:
• Signing the Membership Book
• Being at least 16 years of age or completing the Fellowship's "Coming of Age" program
• Providing financial support to the Fellowship. Annual contributions are required for continued membership. Each member privately chooses the amount to give based on their personal financial circumstances, and a waiver of this requirement can be granted by a minister.
• We also hope that you get involved in supporting the Fellowship with your time and talent by joining a group or a committee. This helps you support the congregation as well as get to know others in the Fellowship and feel part of the community.
You are invited to become a member of the Fox Valley Unitarian Universalist Fellowship and join others in this exciting and growing community. Here you will have a place where you can grow on your spiritual journey, where you can share and be supported in life's happiest and saddest moments, and where you can work together with others to bring peace and justice to the world.
Tell Me More: UU Edition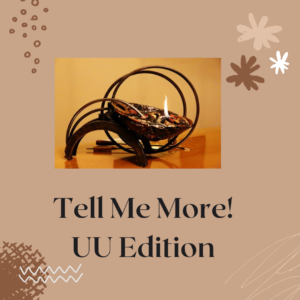 A few times each year, we offer a chance to join one of our ministers for an informal introduction to Unitarian Universalism, our Fellowship, and to get your questions answered! This is a wonderful session for newcomers, or long-timers who need a refresher. Watch the weekly e-newsletter for upcoming dates and times.
For more information about membership at the Fellowship, you are invited to speak with a minister, member of staff or a member of the Generosity & Engagement Ministries (GEM) who wear rainbow lanyards on Sunday mornings.
The ministers, along with the GEM, will offer quarterly "Tell Me More" classes to help you learn more about Unitarian Universalism and our Fellowship. 
If you feel ready to join the Fellowship as a member, we encourage you to reach out to our ministers to set up a meeting to discuss how to get connected and to sign the Membership Book. You can reach our ministers by calling the office at 920-731-0849, or by email: [email protected] or [email protected].