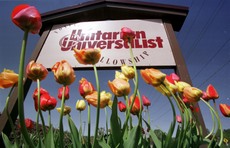 Consistent with our seven principles, the Fellowship is organized democratically. The congregation, by majority vote, has final authority for running the Fellowship, including policies for operation, the raising and allocation of funds and the selection of ministers.
 The Governing Board articulates the Fellowship's vision through its governing policies (see link below) and monitors the work of the Executive Team, known as the X-Team. The X-Team includes the Senior Minister, Business Administrator and Associate Minister. The X-Team makes the decisions about how things happen here and the operation policies.
Minutes of our Board meetings are available for review by members upon request and also available on the bulletin board in the Fellowship lobby.  Please contact the Fellowship office for more information.
Meetings occur on the third Tuesday of the month at 6:00 p.m. The Governing Board wants to hear from you. We are setting aside five minutes at the beginning of every Board meeting for a "time for congregants" to come and speak to the Board on any topic they wish. Please restrict your comments to five minutes as we will need to move on with the rest of the Board meeting. We look forward to hearing from you!  
Officers
Sam Zinth, President
Bradley Shipps, Vice-President
Chilwin Tanamal, Secretary
Theresa Hannah, Treasurer
Board Members-at-Large
Dan Fischer
Elizabeth Van Sickle
Andy Smock
Terry Dawson
Eric Riggers
If you would like to share your thoughts, or have questions or concerns, please email the board fvuufboard@fvuuf.org.
Other Documents
Organizational Chart 2017-2018
Governing Board Policies (June 2017) – includes By-Laws, Endowment & Gift Acceptance Policy, and the 5 Year Plan.
Principles for a Healthy Congregation
April 2018 Income and Expense Report
Governing Board Agenda May 2018