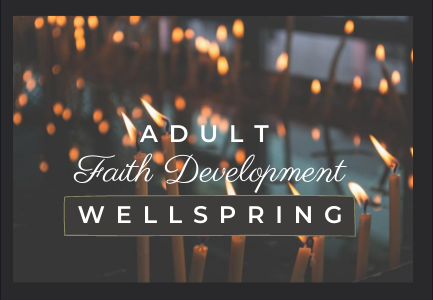 We are excited to offer a virtual guest ministry series for our Wellspring program this year! We have an incredibly diverse group of people from around the country (and even Asia!) leading these programs. They are always on the 2nd Wednesday of the month from 6:30 – 8:00 pm CST.
Zoom Meeting Link
https://us02web.zoom.us/j/84083399562?pwd=Nlp5blJVM2EvczJLZm45Yytob1FaZz09
Meeting ID: 840 8339 9562
Passcode: Wellspring
Dialing in: 312-626-6799
Meeting ID: 840 8339 9562; Passcode: 7144221771
October 14: The Stonewall Generation: How To Be More LGBTQ Elder Inclusive by Jane Fleishman
In The Stonewall Generation: LGBTQ Elders on Sex, Activism, and Aging, sexuality researcher Jane Fleishman shares the stories of fearless elders in the LGBTQ community who came of age around the time of the Stonewall Riots of 1969. In candid interviews, they lay bare their struggles, strengths, activism, and sexual liberation in the context of the political movements of the 1960s and 1970s and, as well as today. Each of these inspiring figures has spent a lifetime fighting for the right to live, love, and be free, facing challenges arising from their sexual orientation, gender, race, ethnicity, religion, politics, disabilities, kinkiness, non-monogamy, and other identities. These are the stories of those whose lives were changed forever by Stonewall and who in turn became agents of change themselves.
The purpose of this program is to help us create more LGBTQ elder-inclusive congregations. By discussing the themes each of these courageous elders raises, we can promote the strengths of LGBTQ elders by hearing their stories of courage and activism and inspire ourselves and future generations to speak out against oppression.
Jane Fleishman, PhD, MEd, MS, AASECT Certified Sexuality Educator, is an award-winning educator, writer, program developer, and researcher with a keen perspective on the intersections of race, class, and sexuality, particularly for marginalized populations. Jane is the Principal in her own consulting practice, Speaking of, LLC, specializing in program development, training, curriculum design, writing, and policy review related to human sexuality. She hosts a regular podcast on topics related to sex in the second half of life at www.ourbetterhalf.net and recently completed a TEDx Talk entitled, "Is It OK for Grandma to Have Sex?" Her latest accomplishment is her book entitled, The Stonewall Generation: LGBTQ Elders on Sex, Activism, and Aging. You can reach her at www.janefleishman.com.
November 11: No Use C
rying Over Spoiled Gourds: Drawing Inspiration, Courage, and Humor from the Sacred Writings of the Jewish Tradition by Kelly Weisman Asprooth-Jackson
In this Wellspring Wednesday, we will dig into the richness of Jewish scripture to find models of resilience and reasons for laughter. With open hearts and curious minds, we'll seek out meaning in ancient stories that can be accessed across the beautiful diversity of Unitarian Universalist theologies.
Watch a preview of Rev. Kelly's program HERE!
Rev. Kelly Weisman Asprooth-Jackson is a life-long Unitarian Universalist, a science-fiction enthusiast, and a vegan. Now in his 11th year serving as minister of the First Parish Church in Beverly, MA, Kelly has a background in international relations and faith-based labor organizing. Having fulfilled the Rabbinic requirements to become a "ger" (the Hebrew term for a Jew-by-choice) in 2010, Kelly has spent nearly two decades studying Jewish texts both formally and informally. He has a great passion for helping other Unitarian Universalists to find inspiration and spiritual resources in our faith's 4th Source.