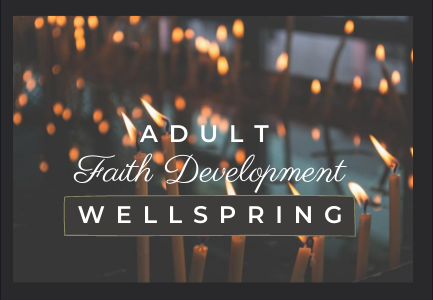 We are excited to offer a virtual guest ministry series for our Wellspring program this year! We have an incredibly diverse group of people from around the country (and even Asia!) leading these programs. They are always on the 2nd Wednesday of the month from 6:30 – 8:00 pm CST.
Zoom link: HERE
Meeting ID: 840 8339 9562
Passcode: Wellspring
Dialing in: 312-626-6799
Meeting ID: 840 8339 9562; Passcode: 7144221771
January 13: When the Barn Burns Down: Secret Stores of Resilience in Art and Being with Rev. Theresa I. Soto
My barn having burned down, I can see the moon. -Mizuto Misahide, 17th-century Japanese poet and samurai
The idea of resilience can get easily warped to end up being something like the power by which we pull ourselves up by our bootstraps. If that's not it, what else is there? This exploration will allow us to recognize both our individual and collective resilience and how that can serve us as we move toward the futures of wholeness and connection that call us forward.
Rev. Theresa I. Soto is a 2016 graduate of Meadville Lombard Theological School. They come to professional ministry after careers in education and law. They were the 2019 InSpirit Series author of the book, Spilling the Light: Meditations on Hope and Resilience. Rev. Soto currently serves as the lead minister of the First Unitarian Church of Oakland. They have a small white dog with brown ears named Mr. Nancy and are married to the Rev. Sean Parker Dennison, who ministers in Ashland, Oregon.
February 10: Life in Three Lines with Rev. Marti Keller          
February is the shortest month of the year and Haiku is the world's shortest genre of poetry.
We will be learning about this verse form in its American manifestation, including how our Unitarian Transcendentalist forebears were influenced by it. We will hear and discuss diverse examples of three line poetry, and practice it ourselves as some may pledge to write at least one haiku a day during National Haiku Writing Month. And discover how these tiny poems can tell our lives.
Marti Keller is a UU minister, who began writing haiku, like many of us, as assignments in school creative writing classes. She has been unlearning the traditional 5-7-5 structure and narrow focus on the natural world ever since, and is especially grateful to others who have gone before her in crafting more varied approaches. Her poetry has previously been published in collections focusing on women's and nature writing, in monthly magazines, and a Unitarian Universalist meditation manual.
She has published several chapbooks, including "Thinking in Haiku", "Prickly Pear" and "South/West". Her latest short book, "Red Wool Socks and Dark Chocolate: A Life in Three Lines", was published by Matrika Press in 2020.