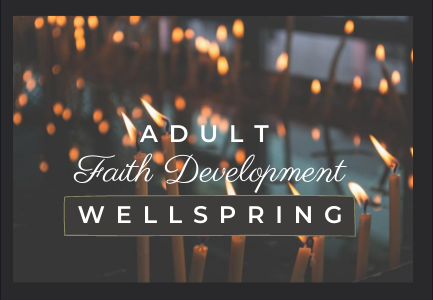 We are excited to offer a virtual guest ministry series for our Wellspring program this year! We have an incredibly diverse group of people from around the country (and even Asia!) leading these programs. They are always on the 2nd Wednesday of the month from 6:30 – 8:00 pm CST.
Zoom Meeting Link
https://us02web.zoom.us/j/84083399562?pwd=Nlp5blJVM2EvczJLZm45Yytob1FaZz09
Meeting ID: 840 8339 9562
Passcode: Wellspring
Dialing in: 312-626-6799
Meeting ID: 840 8339 9562; Passcode: 7144221771
November 11: No Use C
rying Over Spoiled Gourds: Drawing Inspiration, Courage, and Humor from the Sacred Writings of the Jewish Tradition by Kelly Weisman Asprooth-Jackson
In this Wellspring Wednesday, we will dig into the richness of Jewish scripture to find models of resilience and reasons for laughter. With open hearts and curious minds, we'll seek out meaning in ancient stories that can be accessed across the beautiful diversity of Unitarian Universalist theologies.
Watch a preview of Rev. Kelly's program HERE!
Rev. Kelly Weisman Asprooth-Jackson is a life-long Unitarian Universalist, a science-fiction enthusiast, and a vegan. Now in his 11th year serving as minister of the First Parish Church in Beverly, MA, Kelly has a background in international relations and faith-based labor organizing. Having fulfilled the Rabbinic requirements to become a "ger" (the Hebrew term for a Jew-by-choice) in 2010, Kelly has spent nearly two decades studying Jewish texts both formally and informally. He has a great passion for helping other Unitarian Universalists to find inspiration and spiritual resources in our faith's 4th Source.