Welcome to our 2016-2017 Religious Education Program. Here at the Fellowship, we are passionate about providing quality programming and educational experiences for all of our young people. We strive to support and enhance whole child development; to nurture the growth of our young people in areas that are not addressed in our public school systems. We seek to cultivate a sense of wonder and reverence for the gifts of life, to nurture a deeper understanding of those things that go beyond words and to foster a deep sense of sense of social responsibility. Our RE program encourages the use of critical thinking skills to help our young people create an understanding of their place in the world.
With over 200 children involved in programming each year, we work hard to create a culture of connectedness and belonging. We are a big church program with a small church "feel." We continually endeavor to cultivate a sense of belonging and community; a community where people of all ages are recognized for their unique contributions and gifts to the larger whole.
We believe that the educational experiences we provide at the Fellowship will enrich the lives of our young people; that the tools and skills that they acquire here will set a pattern of lifelong learning and spiritual growth. It is our desire that the lessons learned in our classrooms will not only cultivate individual growth, but that the education provided here will ultimately contribute to the good of the larger world community.
It is a pleasure and privilege to work with the children of the Fellowship. We look forward to working with you and your family!
Blessings,
Kim Hartman
Director of Religious Education
The Fellowship's Religious Education program…
Offers liberal religious education for children and youth that promotes welcoming, anti-racist and anti-oppression values
teaches our children and youth about their UU identity, and to question and find their own spiritual path
increases awareness regarding issues of social responsibility
provides an emotionally and physically safe, secure and nurturing environment
Religious Education Program Sunday offerings:
nursery care for all services
Religious Education classes for pre-Kindergarten to fifth grade during 9:00 Sunday service
Religious Education classes for pre-Kindergarten to eighth grade during the Sunday 10:45 service
Religious Education Philosophy and Goals
In our belief that Religious Education is a lifelong process we seek to provide programming for all age groups.  We also strive to appeal to the interests and concerns of our diverse congregation.  Our programming for youth is based on the assumption that young people receive their primary religious education in the home.  Our efforts are in support of families who are raising their children with respect for liberal religious values.
We endeavor to provide an educational ministry to our program participants that will enable each person to:
Feel loved and supported as part of a concerned religious community
Develop a positive self-image
Form a Unitarian Universalist identity by learning about our values, heritage, traditions, symbols, and celebrations
Explore the spiritual wisdom of the world's greatest religious traditions
Cultivate life skills of creative and non-violent problem solving, the ability to question and think for oneself, an attitude of responsibility for one's choices, and the self-confidence and desire necessary to interact socially to create a better world
Celebrate diversity
Affirm our interdependence with the universe and our responsibility to cherish and care for the earth
Experience the lifelong joy of growth in religious understanding.
We look to the sources of the living tradition to inform our choices in curricula and other materials.
The living tradition we share draws from many sources:
Direct experience of that transcending mystery and wonder, affirmed in all cultures, which moves us to a renewal of the spirit and an openness to the forces which create and uphold life
Words and deeds of prophetic women and men which challenge us to confront powers and structures of evil with justice, compassion, and the transforming power of love
Wisdom from the world's religions which inspires us in our ethical and spiritual life
Jewish and Christian teachings which call us to respond to God's love by loving our neighbors as ourselves
Humanist teachings which counsel us to heed the guidance of reason and the results of science, and warn us against idolatries of the mind and spirit
Spiritual teachings of Earth-centered traditions, which celebrate the sacred circle of life and instruct us to love in harmony with the rhythms of nature.
Wellspring Childcare and Special Event Policy
Children must be registered at least one week in advance for childcare for events such as Wellspring, all-congregation meetings, etc.  A minimum of four children must be registered in order for childcare to be provided.
 Religious Education Registration form available online and in paper form. Click here to visit the Religious Education Calendar
Program Year Information
Nursery Care
Staffed child care is provided for young children in our dedicated nursery during every worship servi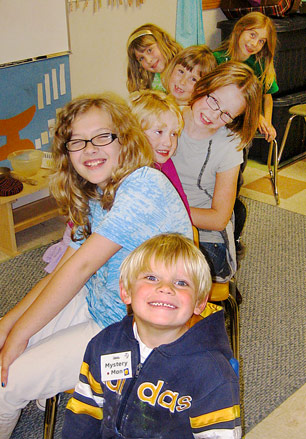 ce.  Parents are asked to bring their well infant or toddler to the nursery several minutes before the beginning of a scheduled worship.  We endeavor to provide young children with a warm, accepting, and safe space in which to become acquainted with our faith community.  Every effort is made to assure that children are content and engaged during the time their parents are in worship.  Parents will be notified if their presence is needed for the welfare of their child by a pager system.
Spirit Play
Pre-K/K ages 3 to 5; 9:00 and 10:45 services
Early childhood is filled with curiosity and wonder. In Spirit Play, within a group setting and with loving adult guides, young children can engage in spiritual seeking, develop their openness to sharing, and experience the benefit of a supportive community.
The experiences and messages of Spirit Play are intended to affirm young children in their spiritual growth, creativity, and connection to their Unitarian Universalist congregation.
Picture Book Bible Tales and World Religions
Grades 1 and 2; 9:00 and 10:45 services
The Picture Book Bible Tales and World Religions curriculums make use of engagingly illustrated picture books as launching points from which to introduce each lesson.
Picture Book Bible Tales: We want our children to be wise and informed decision makers in their journey toward spiritual maturity. We can begin acquainting them with tales that are part of our culture, and can show them how to find universal messages of inspiration and hope.
Picture Book World Religions: The goal of this curriculum is to introduce major world religions through stories and allow young children to explore the differences to their own lives.
In the U.U. faith, we list "wisdom from the world's religions…" as one of the sources of our living tradition. But we can share stories from different faiths, and help them begin a journey of understanding, tolerance and celebration for the diversity of human expressions of faith.
Love Connects Us
Grades 3 and 4; 9:00 and 10:45 services
Love Connects Us celebrates important ways Unitarian Universalists live our faith in covenanted community. Moved by love and gathered in spirit, we embrace our responsibility toward one another and the world at large. We encourage one another's search for truth and meaning. We strive to be active in peace-making and other efforts to improve our world.
Crafts and games that use tying and knots makes tangible the concept of connections we share with one another. Participants physically explore what it means to be linked to others and how one person's actions can affect the whole system to which they belong. Many activities involve participants in teams or small groups, emphasizing their experience as individuals working together in community.
Amazing Grace
Grades 5 and 6; 9:00 and 10:45 services
Amazing Grace intends to help fifth and sixth graders understand right and wrong and act on their new understanding. Its purpose is to equip them for moving safely and productively through the middle and high school years, when they will be continually tugged toward both ends of the ethics continuum.
The Amazing Grace curriculum uses stories, activities, discussion, and more to help youth address such questions as: Why do bad things happen? What is the role of God, gods, and goddesses? Who am I? Is evil or goodness within us? Is it something we choose? What are my own ideas? How can I follow my own ideas and not somebody else's? Is "you decide for yourself" really the ultimate UU answer to these questions?
Neighboring Faiths
*Neighboring Faiths is offered during the 10:45 service only
The Neighboring Faiths curriculum introduces youth in grades 7and 8 to the faith traditions and practices of other religious groups in their community. The 2016-2017curriculum will explore the UU root faiths of Christianity and Judaism. Students will participate in four to five fieldtrips to various houses of worship in the Appleton area. This journey builds community among the youth, connects them with their congregation and larger community, and strengthens their Unitarian Universalist identity.
Breakfast Club
Grades 9 through 12 – Brown Room
10:00-12:00 (before and during the 10:45 Sunday service. Youth may choose to leave at 10:45 to attend the service.)  The Breakfast Club is a newly formed entity within the Fellowship's Youth Ministry programming.  9th-12th grade students will be able to join together for breakfast, lively discussion, and activities that enhance and support their growing UU identity. The programs will be a mix of speakers, hands-on activities, community services, and worship services, and will help to build our youths' interest in our Fellowship and their place within it. Adult facilitators will lead the Club.
Come share some of the many activities in store for The Breakfast Club:
Have "Breakfast" (of course)
Discuss sermon topics and worship themes
Participate in community services
Hands-on activities
Visit other religious communities
Participate in Fellowship Church Service
Save
Save
Save
Save
Save